24-year-old Kudakwashe Clinton Nyamhuka works as an accounts receivable clerk in the transport industry in Chitungwiza, Zimbabwe. Away from his day job, he wears a different crown. He is self-taught web developer who, inspired by the desire to benefit informal traders and their families, created an ecommerce platform, Venda. Venda allows informal workers to sell products through the platform and offers personalized insurance for the informal worker by bundling the purchase of insurance with the purchase of essential items such as food. This helps to provide the informal worker with a degree of risk cover and ensure business continuity.
During his internship at Nicoz Diamond, one of Zimbabwe's largest short-term insurers, Clinton was assigned a project that involved creating a software solution targeting the informal sector. It was during this period that Mr. Kudakwashe developed a comprehensive understanding of the needs of this sector and a desire to provide the needed solutions.  Therefore, when COVID-19 struck and ravaged the economy, the informal sector's plight inspired the 24-year-old to join the multitude of people seeking various solutions for the different problems created by the pandemic.
"Informal traders needed a place to sell their products and access insurance given the unpredictability of the pandemic," he says, speaking of his observation at the time.
Clinton after carrying out research concluded that the current economic models of most African countries were based on European systems. African countries having the highest percentage of informal workers, meant that they cannot be targeted by insurance models that are designed to target the more formal sector that emulate European systems. "What I set out to achieve through Venda, is an improved insurance penetration rate in the informal sector as well as technology savvy informal traders that can use e-commerce to improve their business," Clinton notes.
He set up a team based on shared enthusiasm and vision to begin working on Venda. Funding was and still is a major hurdle, he observes. Working with a few of his peers in web development, Clinton feels lucky that they still work together even though at the moment their innovation is not yet generating income. He hopes for seed fund to support the launch of the project and access to other needs such as operational equipment and finances to run the small team.
Unfortunately, COVID-19 put a hold on some of his other substantial plans that he had in place. "I was interviewing with the possibility of working with this incubator, one of the best in Africa as it turns out, but regrettably they had to cancel because part of the process involved a number of international trips."
Prior to taking part in the ATU Africa Innovation Challenge 2020 , Clinton was always on the prowl looking for the kind of opportunities his innovation needed to jumpstart its operationalization. Then one day he encountered an advert for the Challenge on the Opportunities for Africans website. Seeing that the competition suited his innovation, he decided to apply recalling that at the time the app was still under development.
Speaking on the competition's outcome and reasons for his participation, Clinton says, "It was just one of those moments when I asked myself, if I don't then who will? Being a finalist is a great addition to my CV. I will definitely use it as a testament to my ability to see problems in the market and offer pragmatic solutions."
Clinton desires to benefit from an incubator hub which he hopes will help advance his idea. He also wishes to undergo further training on entrepreneurship and effective business models.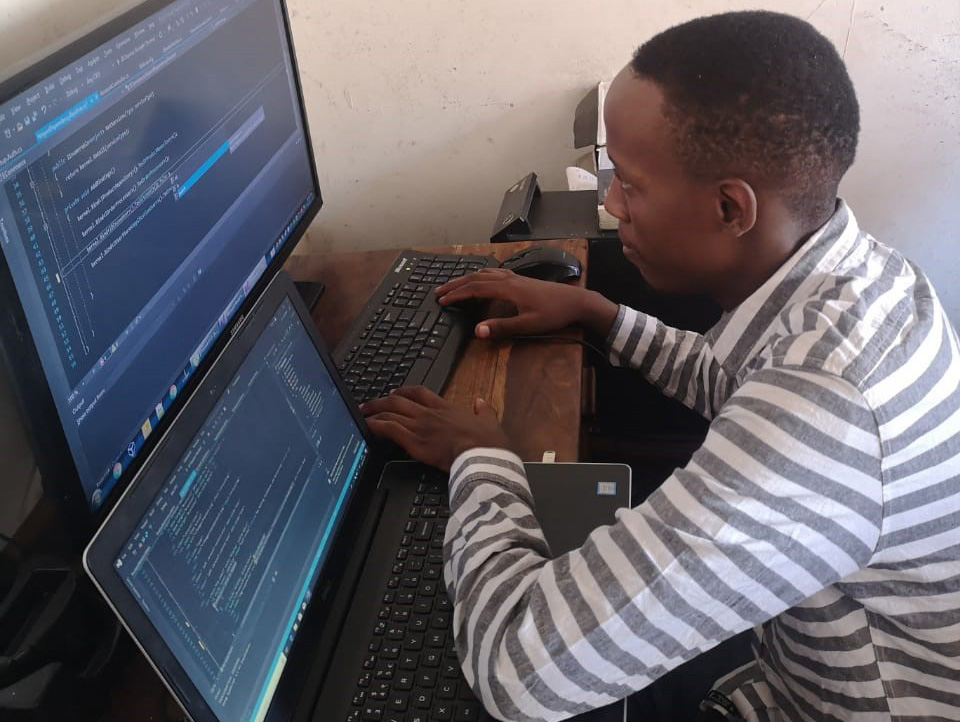 In true finalist manner Clinton concluded by saying, 'I wanted to win but cheers to the eventual winners, they did an awesome job. It was humbling to see the creations of the other contestants in attendance, and it will be a great motivation going forwards. Entrepreneurship is for the most part a lonely journey so it sure was nice to be among others with the same vision."
The ATU Africa Innovation Challenge 2020 was organized in partnership with Huawei Technologies Company Limited-the title sponsor of the Challenge, as well as Intel Corporation, GSM Association, the International Telecommunications Union, the Ministry of Communications and Information Technology-Egypt, Broadband Infraco SOC Limited and RCD Africa.
Contact Mr. Kudakwashe Clinton Nyamhuka
Website: http://fwd.co.zw/