"Imagine waking up every day, five days a week to go to school, you are very excited to learn but you cannot comprehend anything simply because you do not understand the language of instruction," says Abdinoor Yerrow, 1st runner-up of the ATU Africa Innovation Challenge 2020, attempting to paint a picture of the motivation for his innovation.
Yerrow religiously attended school up to class six but could not understand a thing as he only spoke and understood the Somali language while the language of instruction was English. Now 32, he is today a Telecommunications Engineer specialized in Optical networks.
Speaking to him, you can tell that Yerrow is a passionate and humble young man who attributes all his success to Allah and carries with him a sense of service to the community, hard work and determination. He is a philosophical man who strongly believes in education as the key to Africa's socio-economic development and the liberation of communities from poverty. Although Yerrow held on to this belief, he never fully comprehended the meaning of the statement until 6 years ago.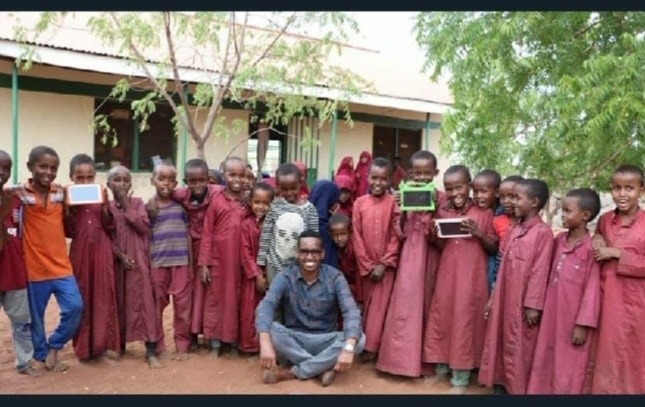 Coming from a Nomadic community residing in Wajir County in the Northern region of Kenya, he went to Sankuri Secondary School, a local high school in the community and thereafter pursued engineering before gaining employment in one of the major ICT companies in Kenya. He enjoys company of friends and relatives and he, from time to time, has his relatives from Wajir County visit him in Nairobi (almost 500 kms apart) where he works. In one of these occasions six years ago, while Yerrow was interacting with his cousins asking them about school, he noticed that none of his cousins' present, even those in secondary school, could comfortably express themselves in English. Relating this to his early childhood education and his struggles with English and Swahili, it dawned on him that this was not a coincidence but a serious problem facing his community. Yerrow set out to fully understand the state of education in his hometown. He came to a conclusion that language barrier and lack of adequate resources were the two key factors affecting education in his region. The language of instruction in Kenya is English and Swahili. This is even as most rural and pastoral communities including those in the Northern Region of Kenya only understand their local mother tongue. It therefore becomes challenging for the children to cope with the syllabus. Additionally, the remoteness of the region and the insecurity experienced from time to time is uninspiring to teachers, leaving most schools with an underwhelming student-teacher ratio.
After this realization, Yerrow took it upon himself to change the narrative of the region and increase the academic excellence of his people through technology. He immediately resigned from his job and enrolled for a Master's course in Education Technology in an effort to find a technological solution to the unending education crisis. Yerrow then went ahead to develop M-lugha application, an offline e-learning platform that was awarded the second-best price in the ATU Africa Innovation Challenge 2020.
M-lugha App is an offline, interactive, multicultural and mother tongue-based learning App that translates Kenyan Early childhood education syllabus to 19 indigenous languages mainly spoken by pastoralist and the rural population of Kenya that make up 60% of the Kenyan population. The objective behind the mobile application is to bridge the language barrier in education and help rural learners' access basic literacy and numeracy in a language they understand in order to improve language competency as a foundational basis to education.  The apps are offline, android and window supported. M-lugha app not only breaks the language barrier but also helps fill the teacher to student ratio gap through the translation that makes it possible for the pupil to study by themselves. The app is currently benefitting children in the Northern region of Kenya facing the academic crisis especially with the current disruption by COVID-19. It is Yerrow's hope that his innovation would extend beyond the borders of Kenya to benefit every African child facing similar socio-economic challenges.
Even with his extraordinary zeal and determination, Yerrow encountered many challenges. For example, Yerrow has no mentor and while developing his application, he was not affiliated to any innovation hub, meaning he was basically shooting in the dark. He simply had no idea how best to go about developing his application, how to package it or even how to approach investors. What was even worse was Yerrow's encounter with the authorities as he was seeking a license; he was frustrated by the large amount of cash he was being asked to raise and which he could not afford. To Yerrow, this experience is a clear indication that Government needs to listen to the plight of innovators and work towards having a system that supports them at both the grassroots and national level. Yerrow still feels that everyone is working in silos. In his perspective, the ecosystem is broken and there is need for proper structures that make will it easier for African innovators to thrive.
Even after succeeding through the developing stage, he still had to encounter other challenges, including the lack of digital literacy and the technophobic nature of many communities and even teachers. Lack of basic computer skills is making it hard for teachers to oversee and encourage the utilization of the mobile application. For the innovation to be extensively rolled out, Yerrow continues to be convinced that there needs to be installed solar powered tablets as many rural areas and schools lack access to electricity.
Upon learning about the ATU Africa Innovation Challenge in August 2020, he applied immediately as this was too huge of an opportunity to bypass him.  To him, it was an opportunity to showcase to Africa the benefits of his application and possibly get the necessary support to take his application to the next level. Yerrow learned about the Challenge by visiting the African Union website under the African Education Technology Space Programme that he is a Member of.
Yerrow had a feeling that he was among the finalists, but he did not expect to win. His most memorable moment was when he saw his name pop up on the screen together with the Kenyan flag during the award ceremony.
"To date, that moment gives me goosebumps," he says.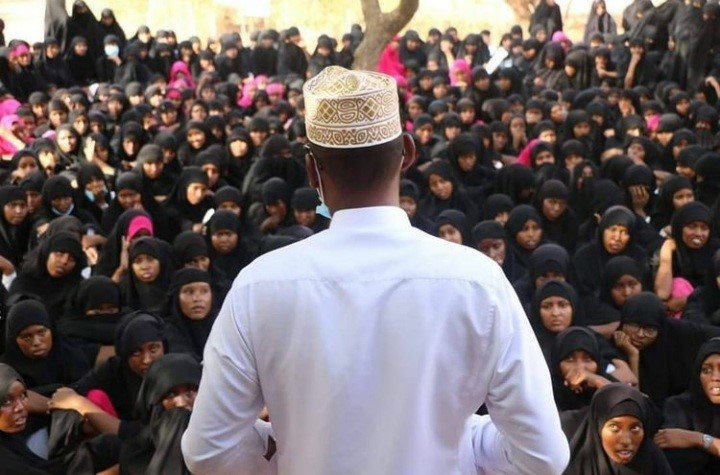 Yerrow is using his position as the 1st runner up of the ATU Africa Innovation Challenge 2020 to raise more awareness about his innovation and its importance and hopefully get the needed support to accelerate its implementation in the community. He is hopeful that he will get to partner with ATU Members and take ICT training to the grassroot level and bring basic digital literacy to the teachers and mothers who play  a key role in the successful execution of the objective behind the application. Yerrow would also like to work with the Kenyan government and get the necessary support to accelerate his innovation so that more communities across Kenya can be helped. He believes that for Africa to keep up with the rest of the world, innovation should be fostered and encouraged at an early age especially in schools.
"The world is moving towards the 4th Industrial revolution and we need to prepare the next generation in Africa," he says.
With the COVID-19 disruption, most schools in the Northern region of Kenya including Wajir County did not reopen even after the Government directive and the schools that reopened had very few teachers reporting for duty.  To ensure that these children continue accessing education even with the complete lack of or limited number of teachers, Mr. Yerrow is currently appealing to institutions and organizations to donate 5000 tablets that will be distributed to schools in the Northern region of Kenya as part of his initiative of promoting education through technology.
Email: info@m-lugha.com
Website: https://m-lugha.com/#theinnovator